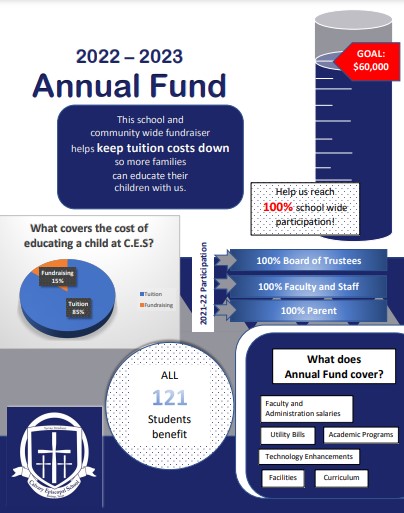 ANNUAL FUND
Unrestricted gifts to the Annual Fund allow Calvary Episcopal School to continue to meet strategic goals—including continuing to enhance the student experience, maintaining competitive salaries for our talented faculty and staff, and building a diverse global community while providing a potential tax benefit for donors.
The school encourages donors to participate by contributing according to financial capability. Donors with the capacity to do so are encouraged to make leadership gifts. Every gift, no matter the size, makes a difference. Our fiscal year closes on June 30.
Bridging the gap between tuition and fees and the day-to-day operational expenses. Works towards balancing our budget.
Room parent
Flyer
You may donate online via PayPal to support CES.