17th Annual Fall Festival - 2022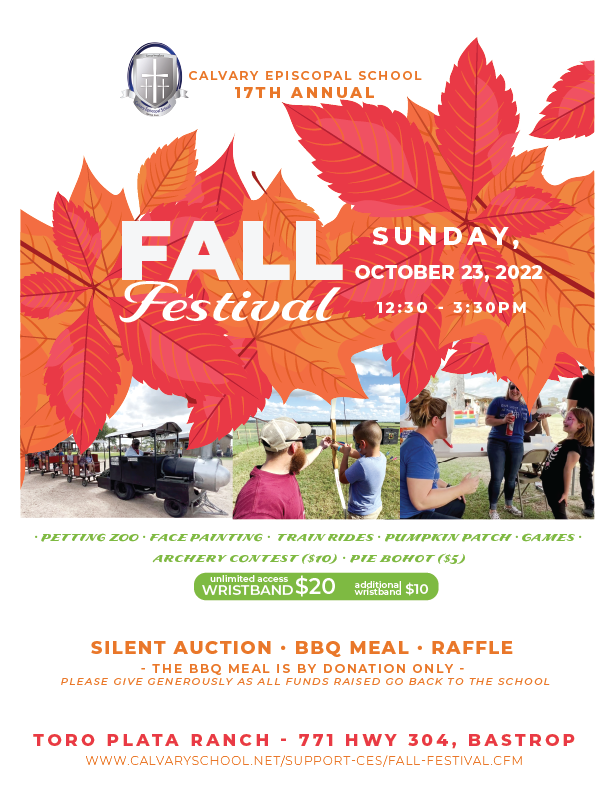 Calvary Episcopal School Community invites you, your family and friends to join us on Sunday, October 23, 2022, 12:30 - 3:30 PM for our 17th Annual Fall Festival!
Location: Toro Plata Ranch at 771 HWY 304, Bastrop TX
~Silent Auction
~Raffle Tickets - $20/Each, only 300 sold!
~BBQ Meal: Donations only - all funds go directly back to the school - thank you in advance for your generous donation!
~Unlimited Wristband: Petting Zoo - Face Painting - Train Rides - Pumpkin Patch - Games
*$20 for the first child, multi-children family discount, $10 for each additional child
~Archery Contest: $10
~Pie Bohot: $5
Download flyer HERE
Sponsorship Opportunities
Would you like to become a Fall Festival 2022 Sponsor?
Calvary Episcopal School needs sponsors for this event. Sponsors can be parents, grandparents, family friends or businesses. This would be a great way to advertise your business and to show your support for the school.
CLICK HERE to register to become a Sponsor.